I'll be honest I've never been much of a Black Friday gal. I went in high school but went sought refuge with a best friend in a book store after a couple hours till our moms were done. These days I still head out for a few hours on Friday with the same friend and our moms but we but jeans, maybe a gift or two, and then go to lunch.
I'm not a fan of the crowds but I  am a fan of a good deal on something I know that will be of good use be of benifit to my family and I. That's why I am excited to share what I think are the best deals to nourish your family and beautify your home!
Flexi Clips are about the only thing I have used in my hair for five years. They are beautiful, sturdy, and a fun accessory. They are a game changer when it comes to hair for me. I use them to dress up my everyday look and even as a bride's maid! Don't forget the bobby pins, headbands, and badge clips!
Bulk Herb Store  has been my go to one stop shop for herbs since 2008! They are a wonderful company to write for and shop from.
Untied Enviornmental Solutions has the top selection for water filters and emergency relief food. My Berkey is one of my most used "appliances". My parents love their whole house filter!
Products to Look for: 
25% off Crown Berkeys
25% off Berkey Accessories with the purchase of a Crown Berkey
15% off Berkey Accessories
25% off all ProPur Products
25% off all Relief Food Products
Whole House Fillter $1750 (over $1,000 off!)
These deal are good from November 26th- December 4th.
I really like all my Lexie:Naturals products! Ever since I received my freebie from the Ultimate Healthy Living Bundle in the early fall I have not been able to get enough of their products. These cute soaps would make perfect stocking stuffers or simply be fun to use for yourself!
Fall Soaps and Sunsticks are 20% off and Gift Sets are 33% off.
I 100% love the simple ingredient lists for these products, they are just how I would make them myself!
These prices are good through Sunday the 28th.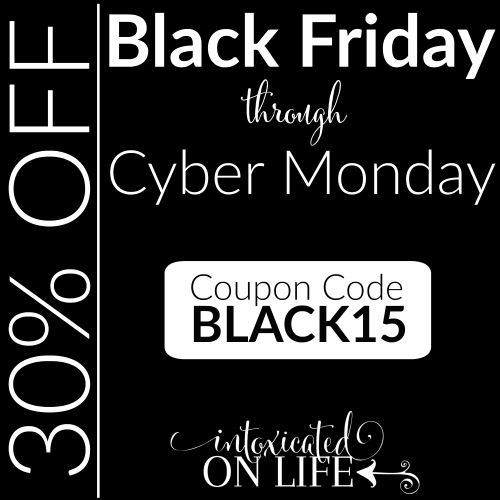 I am a huge fan of Intoxicated on Life's books. Don't miss out on their free Christmas devotional!